André de Waal Ph.D., MSc, MBA
André is Academic Director of the HPO Center, an organization which conducts research into "high performance organizations." In addition, André is Associate Professor High Performance Organizations at the Maastricht School of Management. His teaching assignment is the course Strategic Performance Management and High Performance Organizations. André is also Academic Director of the HPO Center, an organization which conducts research into high performance organizations. He is guest lecturer at the Free University Amsterdam and Erasmus University Rotterdam, and visiting fellow at Cranfield University, United Kingdom. André holds a MSc in Chemistry from Leiden University (the Netherlands), a MBA from Northeastern University Boston (USA) and a Ph.D. in Economics from Vrije Universiteit Amsterdam (the Netherlands). He has been a partner with Arthur Andersen and Holland Consulting Group for 17 years.
As an independent boardroom advisor and researcher, he has advised over 200 global companies on performance management and high performance issues. His consultations with his client companies and professional management associations span five continents with touch points in the USA, UK, Sweden, The Netherlands, Poland, Peru, Ecuador, China, Vietnam, Bangladesh, Mongolia, Nepal, Surinam, Saudi-Arabia, Yemen, South-Africa, Namibia, Rwanda and Tanzania.
Awards & Recommendations
André has been selected as one of the Dutch Masters in Management, ten people who have influenced management thinking in The Netherlands the most in the past decade. In 2009 and 2012 André received the Highly Commended Award from the International Journal of Productivity and Performance Management.
"The HPO research by André de Waal has the advantage of being practical and extremely easy to implement. His study shows immediately which knobs you need to tweak in order to improve performance."
Rob van den Maagdenberg, Vice President Grohe Western Europe
"André de Waal has done a wonderful job in researching high performance scientifically and then turning his findings into tangible ideas that managers can use immediately."
Peter Hartman, KLM Royal Dutch Airlines President and CEO
"We found the process to be incredibly valuable. Dr. de Waal's definition of a High Performance Organization should be the world-wide standard."
Mike Moroz, President Archway (USA)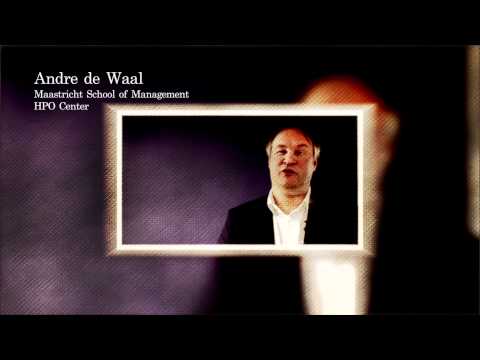 Publications
André has published over two hundred fifty articles and twenty-four books. His articles have been published worldwide with British Academy of Management, Business Strategy Series (Emerald), Chief Learning Officer, Management Online Review, the European Academy of Management, HR Asia, Leadership Excellence and MSNBC.com. His published books include: Power of Performance Management, How Leading Companies Create Sustained Value (John Wiley & Sons, 2001), Quest for Balance, the human element in performance management systems (John Wiley & Sons, 2002), Strategic Performance Management, A Managerial and Behavioural Approach (Palgrave MacMillan, 2007), 10 Rituals of Poor Management (Van Duuren Management, 2010) and Make Your Company a Top Performer! (Van Duuren Management, 2009).
André has conducted several years of scientific research, examining 290 international studies and analyzing studies in 50 countries involving over 1,470 profit, non-profit and government organizations. The results of his study into the success factors of High Performance Organizations will be published in his upcoming book What Makes A High Performance Organization – Five Validated Factors of Competitive Advantage that Apply Worldwide. (Global Professional Publishing, 2012).
Speaking Titles
André's global research (both academic and practical) has made him a well-known global speaker, who combines humor with practical and challenging information. Some of his speaking titles are:
Creating high performance organizations: The determinant factors
A shortage of time demands a strong focus on what really matters in order to improve the performance of your organization. André de Waal did 5 years of scientific research, an analysis of 290 studies, practical research within 1,470 organizations in 50 countries. The result: 5 HPO Success Factors that directly impact long term success. This presentation challenges managers and leaders to focus on what really makes their organizations long-term high performers.
Excellent Quality of Management/Leadership
All managers on every organizational level have to be of top-notch quality to achieve excellent results. Managers maintain trust relationships with employees, treat smart people with respect, creating and maintaining individual relationships with employees, encouraging belief and trust in others, and treating people fairly. Managers work with integrity and are a role model to others. This presentation helps people to recognize the success factors of these High Performance Leaders.
Successful Strategic Performance Management
To become a world class organization, a world-class performance management process and system are a must. Strategic performance management can be defined as the process that enables an organization to deliver a predictable contribution to sustained value creation. A world-class strategic performance management process consists of excellent performance measurement systems and the right performance driven behavior. There is a growing conviction among managers that traditional performance management methods are flawed and insufficient for keeping competitive in today's technology driven information age. This presentation provides the framework necessary for developing a world-class performance management process.
"Culture is very important at HPOs and the HPO research by André de Waal provides us with a tool for thinking in terms of the long run."
Carel Maasland, HR Strategist at IKEA International
Speaking profile André De Waal MSC MBA PhD
For more information, photographs for publication or to contact André de Waal regarding a presentation or HPO Diagnosis, contact Chiel Vink (vink@hpocenter.com).
Join us on our HPO Facebook Page, HPO LinkedIn Group or on HPO Twitter!